About Rev. Dr. Angela Saladino-Heil - Sr. Pastor
A.S.H. Ministries was created to help others with Spiritual matters of the heart. Angela Heil is the founder and Sr. Pastor.
Honoring Marriage Equality.
Rev. Angela and Rev. Ralph Heil are both Ordained Interfaith Ministers.. Ralph and I have been married for 25 year and can help assist you to keep the spark alive.
We're ready to assist you with all your spiritual needs: Handfast, Vow Renewal, Elopement, Wedding, Baby Blessing, 100 days Celebration or any other milestone in your life.
They are registered in NYC. and are willing to travel to Officiate for you.
Rev. Ralph is also a Surveyor and Knights Templar.
The History or Story Behind My Site
I'm Rev. Dr. Angela Heil. I dedicated my life to the service of others. I know how to make your ceremony fun and reflect your sentiments.
Years ago I was an Army Nurse serving our troops.. Now I've come full circle; healing not only the mind and body, but Spirit, too. I'm a N.Y.C. Reg. #12531 Wedding Officiant, Ordained Interfaith Minister, Reiki Master, Shaman and Medium ready to serve you.. I believe the words that you say to each other during your ceremony -are the ties that binds your covenant of love. So you have complete control of all ceremony content.
The ceremony is not a pick one from Column A or B format. Therefore, no two ceremonies are alike. Why? Because I believe no two couples have the same idea of love. Therefore, once you call me at: 6317361371- I will email you a questionnaire to discover who you truly are - in your loving relationship. I will use those answers to create your perfect ceremony; in any style you desire. You'll receive a keepsake of your ceremony laminated, so you'll never forget the special bonds of love you've shared. Similar to the one I'm holding in the picture.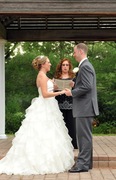 Others
Angela is a Army Veteran and former Nurse. She has been included in a History book, title: A Vietnam Women's commenitive.
She is associated with: Pilots Club Internation, O.E.S., Eastern Suffolk Paranormal Investigator, AMARANTH AND NATIONAL ASSOC. OF INTERFAITH MINISTERS.
Rev. Heil has received many awards for her services; to include: Wedding Wires Bride's Choice Award and One Weds Feather.
My Contact Information: 631-736-1371